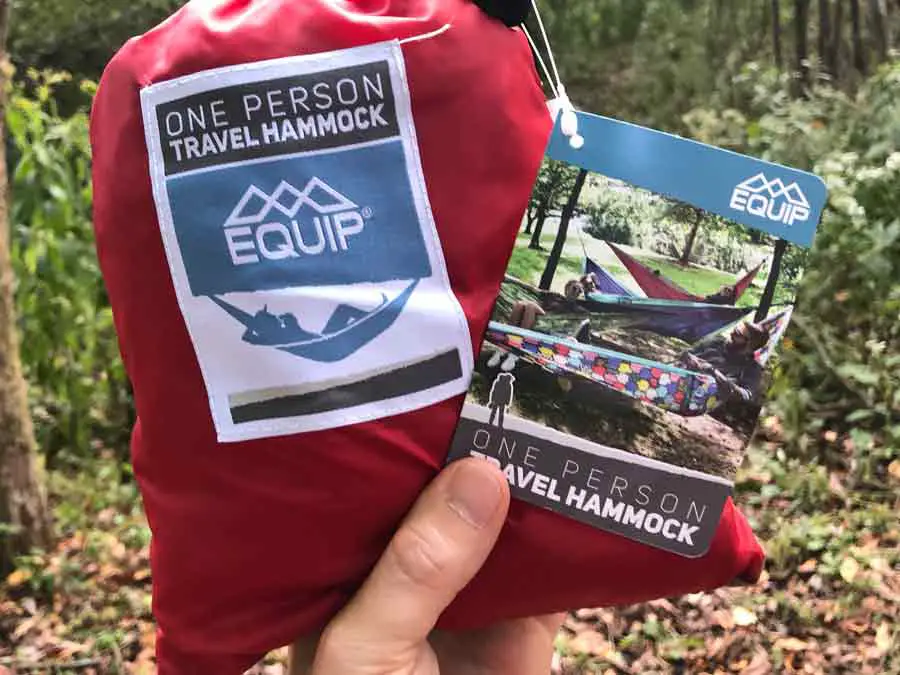 Is the Equip One Person Travel Hammock worth getting?
I have used this hammock a few times now after getting it at Walmart. My first impression of this hammock was a positive one. I felt like I got a bargain on this hammock for only paying $25 for it at Walmart. My overall review is that its a quality hammock for the price and would recommend it to anyone interested in getting into hammocks with a limited budget.
Overall Grade 66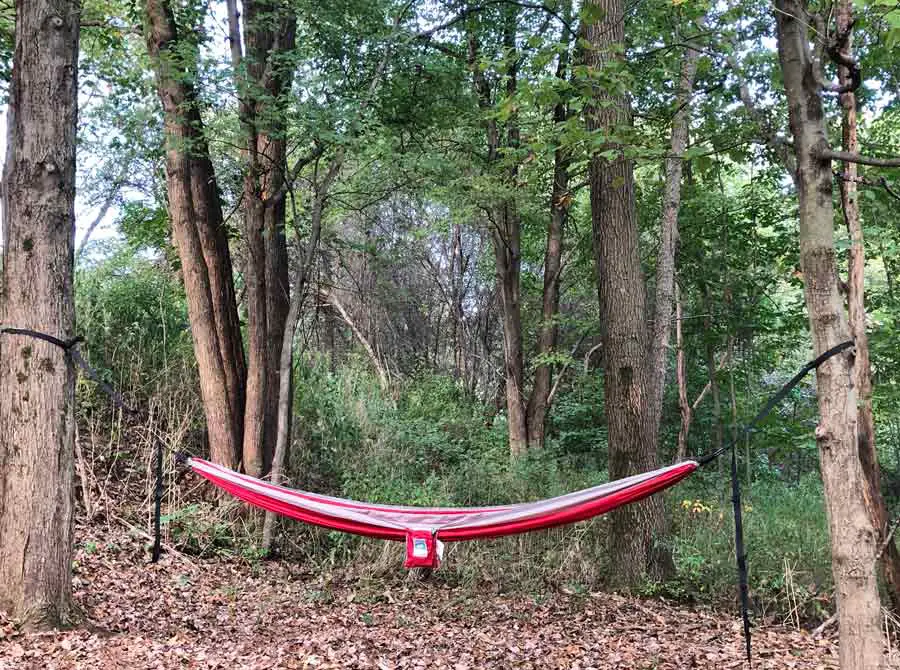 Being obsessed with hammocks as I am I sometimes come across something in a store that I know nothing about and end of doing an impulse buy too because of its a hammock. So I was was in Walmart a while ago in the camping section as I tend to drift towards every time I go there and saw they had these hammocks there. That I have never seen before I gave it a look and thought about getting it then changed my mind and put it back on the shelf. The thing was it was sitting in the wrong spot and I noticed where it was supposed to go and then saw the real price. Then I thought twice a single person hammock for under $25. Instead of putting it back on the shelf I threw it in the cart. 
So here we are I obviously thought this hammock was good enough to talk about and share with people so I thought I would give you my honest review. Before you start getting into the meat of this article I just want to say a few things. 
This is my opinion no one paid me to write it and I'm not being endorsed by anyone at the time of me writing this article.
I was not approached about this hammock to write a review about it.
I spent my own hard-earned cash to buy this.
This article is only my thoughts from my experiences using this product. 
Just the Facts:
Walmart Price: $24.97
Size Unpacked: 116″ L x 59″ W
Size Packed Away: 6″ W x 8″ L x 4″ H
Weight: 1.36 lb
Weight Capacity: 400 lbs.
Material: 210T Nylon
Straps Included: No (Rope Hanging Kit Included)
Connection Type: 2 Carabiners 
Manufacturer: Equip
Made in: China

Additional Features:
Integrated Loop System
Breathable & Fast Drying
Hammock Quality

Upside:
When it comes to quality I feel this is a well-made hammock. It doesn't feel cheap like other hammocks I have gotten in the past. The stitching, for the most part, seemed well made. The ends of the hammock with the large loop strap to hook to is really nice. You can connect your hammock using S-Hooks or Caribeners easily.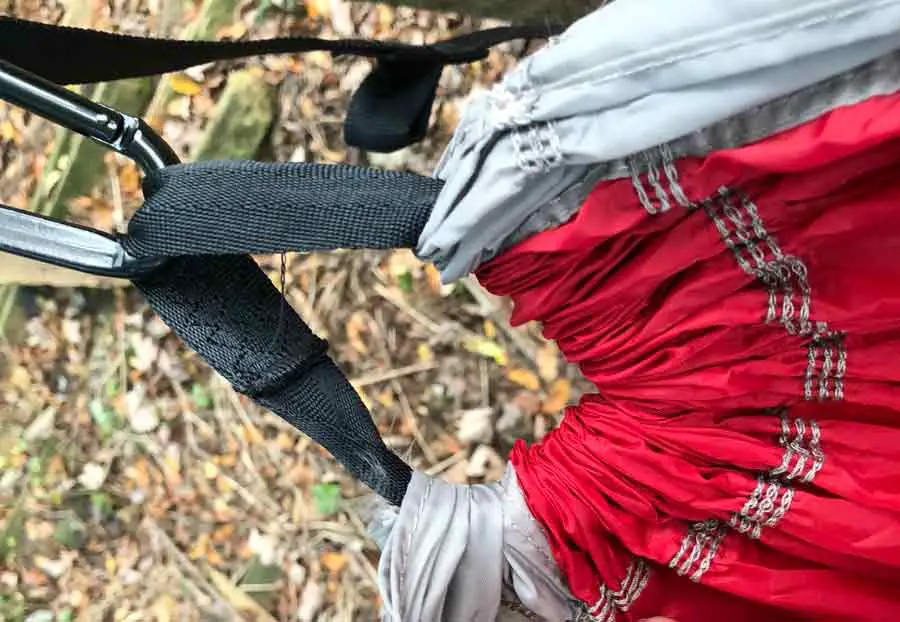 Downside:
When it comes to the downside of quality with this hammock I personally think it comes down to the final quality inspections. When you go with cheaper hammocks the care and attention to detail isn't there like it is in the bigger brands. I'm not saying this hammock will just fall apart. I believe it's really put together well. When I looked at the stitching there were a few noncritical areas that have some looser stitching that wasn't a big deal. 
The one thing that caught my eye the most was there were a few areas that were not cleaned up after the hammock was made. Which caused some frayed edges and some stringy puffs of fabric sticking out in different areas. Once again this isn't a deal-breaker for me but this is what I expect out of a cheaper hammock. The last step that is so important to other bigger hammock companies which is quality control is passed over or isn't as attentive on cheaper hammock brands. This is at least an observation from past experiences.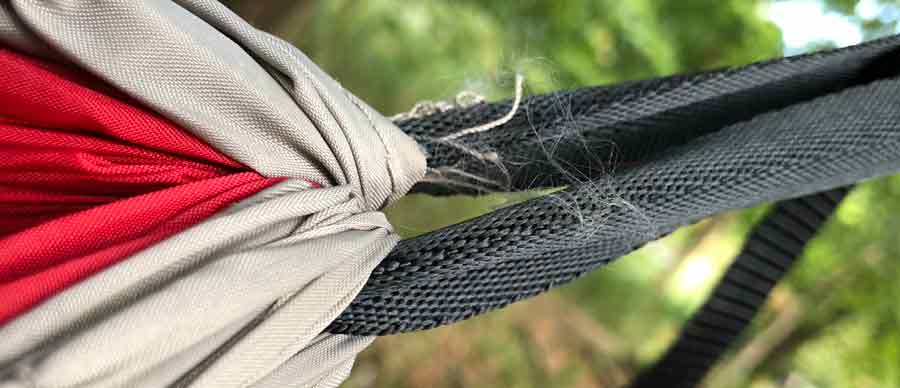 I think with these few issues that this hammock is well-deserving of a 3.5 when it comes to quality.
Hammock Material
Upside:
The material the hammock is super important to me. I spend a lot of time just laying in it during the day and not every time I'm in it I'm going to sleep. Sometimes you just want to relax. The hammock is made of 210T Nylon. Which is a good type of a rip-stop nylon that is durable and can hold lots of weight and not stretch or tear over time if taken care of.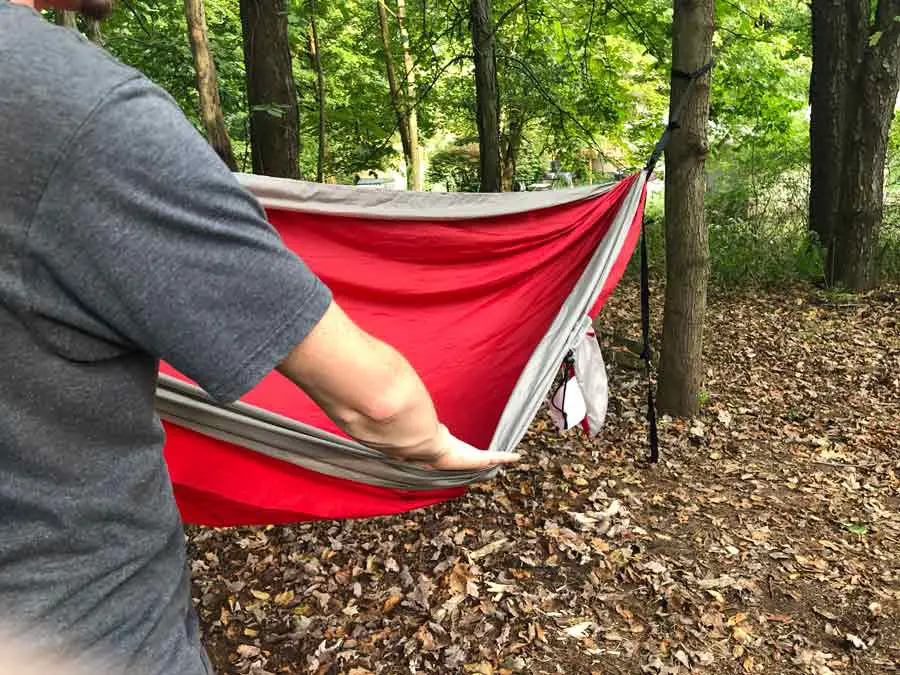 Downside:
When it comes to the feel of this hammock it is a middle of the road quality 210T Nylon. You can tell it's not mixed with any other fabrics and its just 210T Nylon. What does this mean it is a silky feeling. If your bare skin to the hammock you can start to sweat a little and stick to it but that is also something that happens with all nylon, not just this hammock. Still, I like it when the hammocks use mixed nylon to make it feel better on your skin if you are wearing a short sleeve shirt or shorts.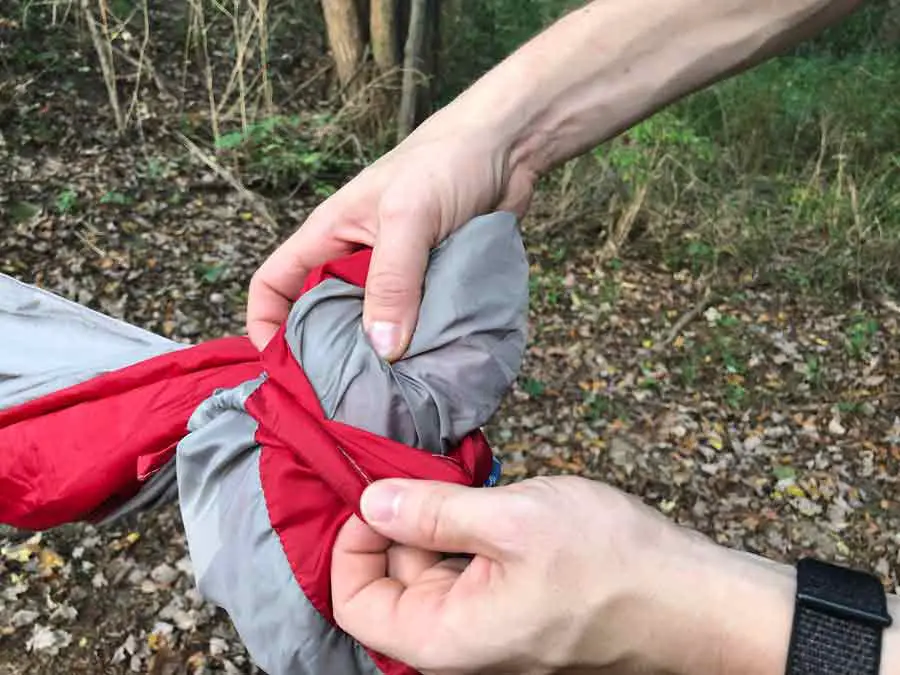 Hammock Comfort
Upside: 
I would say this is right on par with other hammocks when it comes to size and ability to get a good lay. Realizing that single hammocks have less fabric and you can't get fully spread out. This is no different you can't get fully flat at least the few hangs I've done but its pretty close. Still pretty comfy and good to sleep a full night in. 
Downside:
I would like to see just a little more material to get a full flat lay. Once again this isn't a deal-breaker just something that would be nice to see. You can still get comfy but not as comfy as a full angle lay. 
Ease of Hammock Set-Up

Upsides:
When it comes to setting up this hammock I must say they did a good job. Their Integrated Loop System makes connecting to straps super simple. The pouch it stores in is big but sometimes that's a good thing the mouth of the pouch opens really wide to allow the hammock to come out easily while pulling the hammock out. The clips that came with the hammock are really nice quality and strong. I had this hammock up in no time it was really nice to take down as well. The wide opening of the pouch made it easy to stuff the hammock back in. The pouch was big enough to push everything in without cramming it all in there. Some hammocks come in pouches that are too small and you have to really push the hammock back in. This to me having a little bit of a bigger pouch is a nice value add.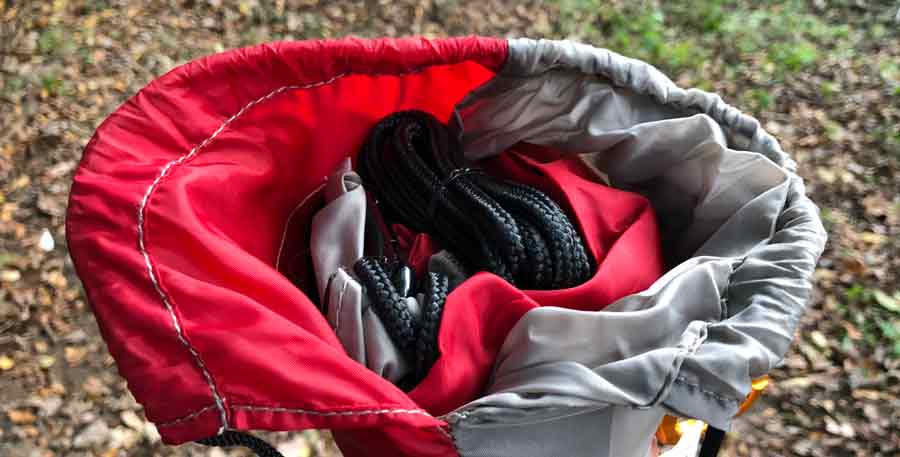 Downsides:
Honestly, there weren't a lot of downsides when it came to this set up the only downside is the suspension rope system. I never use them when hammocks include them due to I only hang on trees and I need straps. So those ropes are the only downside in my opinion. 
Extra Features

Upside: 
When it comes to extra features there are only two things that came with this hammock. The first thing is solid carabiners. These are nice they remind me of the same type that Grand Trunk hammocks come with. They are solid clips that are strong and have a good spring for a secure clip. This is one area that I never expect to see something cheap and Equip Hammocks didn't disappoint me.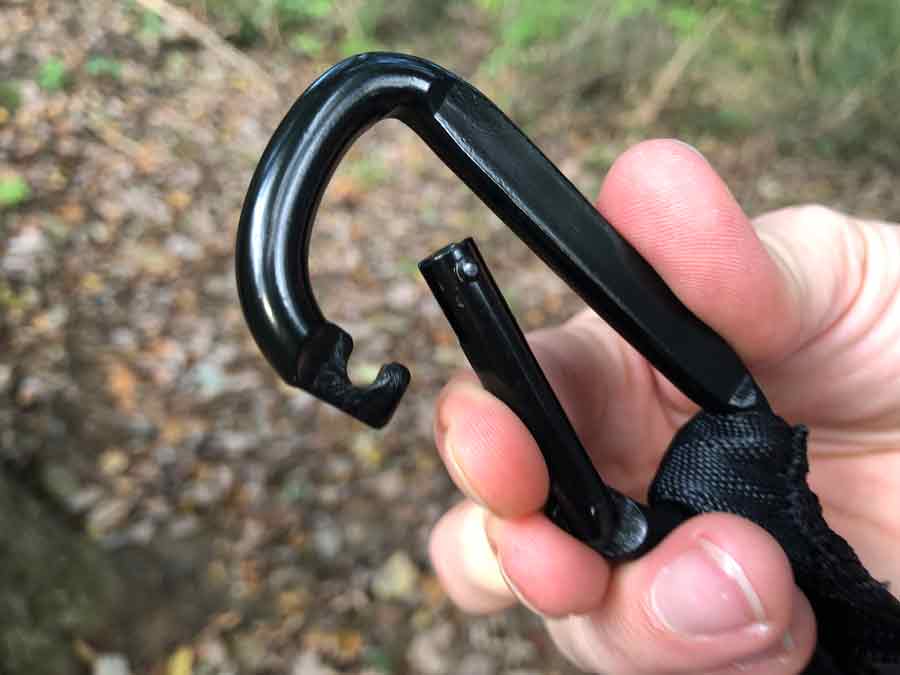 Downside:
Integrated Loop System or what it needs to be called is Integrated Loop ROPE System. Ropes are bad for any situation out in the woods. I am not a fan of any hammock system that includes these for people to use. This just goes against the Leave No Trace principles. You should only use these when securing to a pole or posts anything but trees. So this is a negative for me maybe not others but that is my opinion.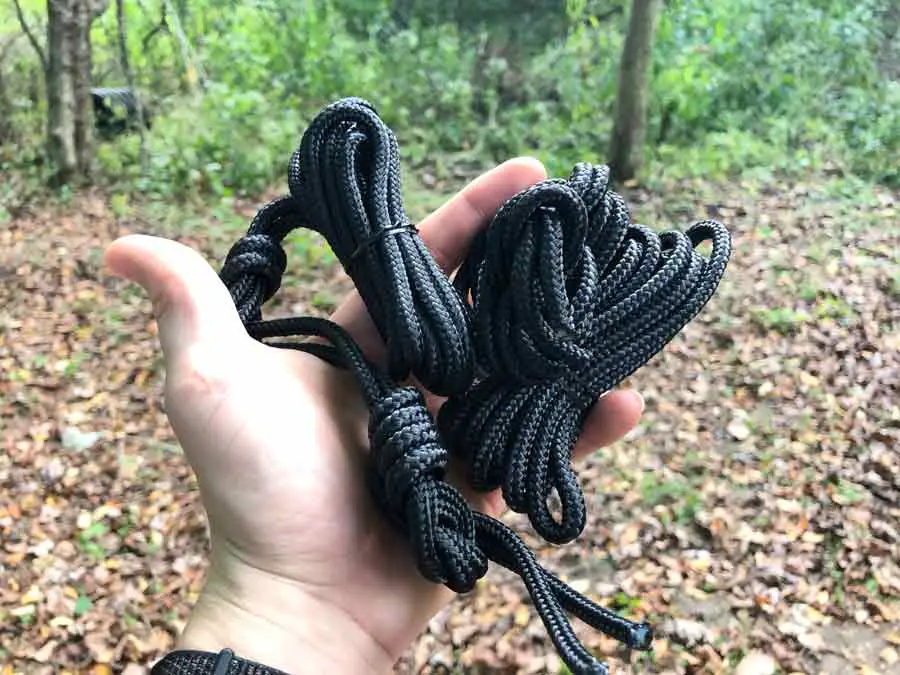 What is it good for?
Not all hammocks are created equally and not all hammocks are created for one purpose. This hammock is a good hammock and personally I think its best in two cases on hiking trips when you just want to hang for a nice break and relax for a bit or it would be a nice backyard hammock to take a nice afternoon nap in. Why not camping or backpacking? There were a few stitching issues I noticed and when it comes to using a hammock extensively I want to make sure its the best hammock I can get. Things can happen to any hammock but its more likely something can go wrong on a lesser quality hammock. 

So Should You Get the Equip One Person Travel Hammock?
That's the unfortunate part of my reviews. I'm not going to tell you what you should do. I broke down and tried to give an honest opinion and explained what I had issues with and why I didn't like any certain features. What you find value in and what I find value in might be the same and you might fully be on board with what I think. On the other side of it, you might disagree on a few things with me and that's fine. That's why I try to break things down for you. What I can tell you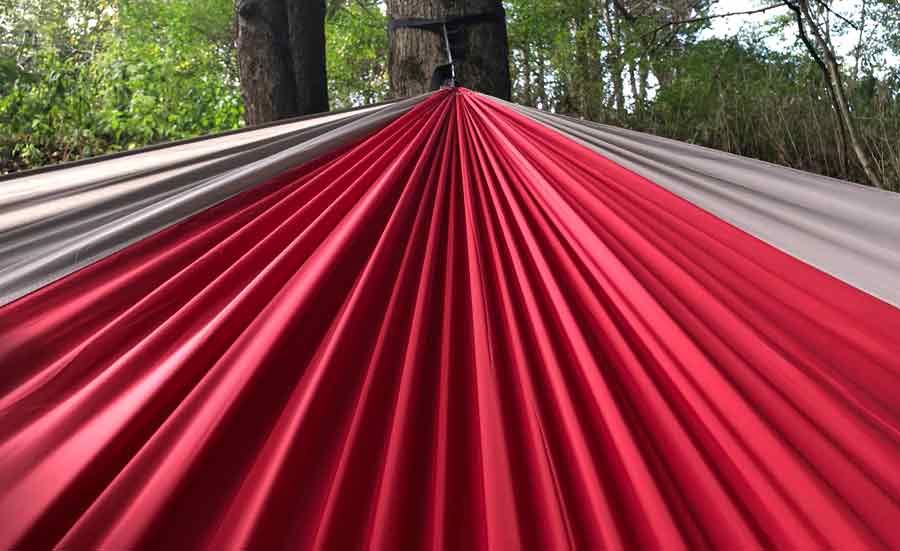 If your looking for a single person hammock on a limited budget to go camping or hanging out in this is an ok hammock. Can you find better hammocks out there… Yes. I don't believe you will find one this nice at this price point though. You do get what you pay for and I feel it was a good investment with my money. This Hammock will last me long enough to earn its money for sure. 
All I can say is find your budget, find your use and decide what features are important to you.
No matter what you decided to hang in this hammock or another I hope you enjoy every second in the Wanderful Wild.